US Open: Gauff ends Wozniacki run, Tiafoe and Shelton into quarters – as it happened | US Open Tennis 2023
Key events
Tiafoe beats Hijikata 6-4, 6-1, 6-4
The Australian wildcard's run is ended in ruthless fashion by Frances Tiafoe, who will face fellow American Ben Shelton in the quarter-finals.
On Armstrong, Tiafoe leads Hijikata 6-4 6-1 4-3, on serve in set three, but otherwise that's us done for the day. Thanks for your company; join me again tomorrow for more fun at 3.30pm BST!
Gauff says the turning point was breaking back so quickly. She really went for her shots but Wozniacki came back like she never left and inspired Gauff growing up; it was an honour to be on the court with her, she concludes. In some ways it felt like playing herself, someone constantly making her hit one extra ball, but it reminded her to go for her shots;; she knew her opponent wouldn't back down, which reminded her to be focused on every point. She's got to quarters before and has confidence that she can go even further, thanking the crowd for her support, then asked about her box, she tells us she likes to work things out for herself so sometimes reacts in the moment telling them stuff, and though her dad gets too nervous to sit there, she knows he's around. So no direct question about Gilbert, which is a shame, but as I said below, I'm sure he's delighted his charge found her own solutions.
Gauff's interview should be a goodun but before we get to it, hold tight Caroline Wozniacki, who did an incredible job in her first major back after so long out. I hope we see her in Melbourne.
Coco Gauff [6] beats Caroline Wozniacki 6-3 3-6 6-1
That's a fantastic decider from Gauff, who shrieks and hollers when Wozniacki's backhand is wide and plenty. She's shown incredible maturity to ignore her coach and solve her own problem; it's hard to believe she's just 19. She meets Swiatek [1] or Ostapenko [20] next.
Gauff goes wide and long on the forehand; one match point saved by Wozniacki…
Gauff makes 30-0 in short order, serves out wide, a forehand return goes long, and Gauff has three match points!
Tiafoe, by the way, leads 6-4 6-1 3-2, on serve in the third.
Down 15-30, Gauff wins two points in a row, the second with a telling forehand, and this break point is near enough a match point. AND WOZNIACKI GOES LONG! Gauff has broken her three times in a row, and this is fantastic behaviour given she a break down at 1-0. But now it's 5-1; can she serve out?
Wozniacki raises 15-30 but another forehand error – each point of the game has finished on account of one – and it's 30-all. Gauff breaks the pattern by sending down a double, then a forehand clips the top of the net and sits up. But Wozniacki doesn't finish so Gauff hauls herself back into the rally, finishing it quickly, saluting the crowd, and hammering down a service winner … then putting away a volley to consolidate and she now leads 4-1! That might be the crucial blow!
Eccellent from Gauaff at 30-all, hanging in the rally then winning it to raise break point. And a forehand swept down the line allows her to come in … but it makes no odds because Wozniacki nets! This is a really mature effort from Gauff, who's responded superbly to adversity and more than that has lozzed off her coach to find her own solutions. I bet Gilbert is delighted with her because ultimately, that's what good coaching seeks to do. She leads 3-1 in the third.
Gauff holds comfortably for 2-1 in the third, and this is very intense now. She has by the far the more powerful weapons, but experience is a biggun and Wozniacki is also under a lot less pressure.
Gilbert was ordering Gauff to give her backhand some air, so she hits three hard, flat ones and makes 15-40; Wozniacki nets, handing back the break, and Gilbert suggests his charge use her legs to be aggressive with the serve. We're 1-1 in the third.
Gauff finds herself down 15-30 and can Wozniacki press home her advantage? Maybe so! A barrage of forehands sets up a winner cross-court and raises two break points, the first saved with a decent first serve. But have a look! A miserable backhand low into the net, and Wozniacki is a break up at 1-0 in the decider! What a story it'll be if she makes the last eight of her first major back after three-and-a-half years retired. Meanwhile, Gilbert tries to advise Gauff – she airs him – and Tiafoe moves two sets up on Hijiokata, 6-4 6-1 in front.
Tiafoe, meanwhile, breaks Hijikata for 6-4 4-1, and looks in total control. But back on Ashe, Gauff, down 40-0, is saying "Stop talking"; a return into the net and we're level at one-set all! Wozniacki 3-6 6-3 Gauff
Wozniacki now leads Gauff 4-3 in the second, but can she find a break? Looking at the bracket, the winner of this meets Swiatek or Ostapenko next, followed by a semi against Muchova or Cirstea, and I'm wondering if Gauff quite has the game to beat the champ if both make it through. My sense is not, but she's improving fast … and of course as I type that, Wozniacki, wity break point, nails a tremendous backhand cross-court to the tootsies that has Gauff doing the splits! She'll now serve for a decider whole Gauff is left shouting "Please just stop" at the barrage of advice from Brad Gilbert, her coach.
Thanks Tom and hi again. Wozniacki is doing everything she can, but it looks to me like Gauff will soon find a way.
Wozniacki takes Gauff to deuce on the American's serve but the youngster digs her way out of trouble and it's 3-3 in the second set. With that, I'll hand back to Daniel Harris.
A beautiful drop volley from Tiafoe secures a break in the first game of the second set. He's 6-4, 1-0 up. Things are going pretty well for the young Americans out there today…
A break point for Wozniacki now from nowhere – Gauff has been utterly dominant so far in this match. She has the court open too to seal the break but sends the ball into the net. Gauff's only fault this match has been her consistency: she's barely getting 60% of her first serves in, but Wozniacki isn't even doing that. Gauff comes back to hold and it's 2-2 in the second set.
Tiafoe win the first set v Hijikata, 6-4. He holds to love and made it look simple.
A break point for Tiafoe at 4-4 in the opening set. Hijikata dumps his first serve into the net but after a long rally, the American pushes a backhand wide and we go to deuce. His backhand is better next time though – he leaps and smacks in past his Aussie opponent for another chance to break. This time he is successful and Tiafoe will serve for the first set at 5-4.
Tiafoe suffers a wee scare as he goes down 0-30 on his serve to Fujikata but he rallies (literally) to take the game and we're at 4-3 on serve in the first. Wozniacki is swinging for the fences, but not terribly successfully: she has 12 unforced errors to four winners so far (Gauff has 15 winners). And yet … she's still in this, and dives forward to hit a crosscourt forehand that's too good for Gauff and leads 15-40 on her opponent's serve. But Gauff is tireless and comes back to hold. This is Wozniacki's sixth match in nearly four years though, so we'll cut her some slack.
Coco Gauff wins the first set against Caroline Wozniacki, 6-3. Wozniacki shows fight, coming back from 0-30 to make it deuce as Gauff serves for the set. The American's serving is just too good though and they help her seal the set. Apart from being broken in the opening game, she was untroubled by her veteran opponent.
Hijikata v Tiafoe is 2-1 and on serve. On Ashe, Gauff gets away to a 0-30 lead and then slams a forehand return to make it 0-40: her return was actually faster than the serve (which, in fairness was 76mph). Coco's eighth points in a row secures the break and she leads 5-3. She will now serve for the first set.
On ESPN we're informed that Gauff's first serve is averaging 106mph. Wozniacki's is coming in at 96mph. Still, she wanders up to the net and sends a volley down the centre of the court to hold serve. Gauff then holds to love and we're 4-3 on serve in the first. A few minutes' walk away at Citi Field, Pete Alonso hits his second home run of the game and the Mets lead the Mariners with a tennis-adjacent scoreline of 6-3. He's up to 41 for the season!
Tiafoe v Hijikata has just started on Louis Armstrong. The young Aussie holds serve to take the opening game of the match.
A few loose shots from Wozniacki early on, which is excusable seeing as this is her first grand slam since January 2020, she was heavily pregnant a year ago and she is currently ranked No 623 in the world (but rising!). Gauff takes an easy service game and leads 3-2.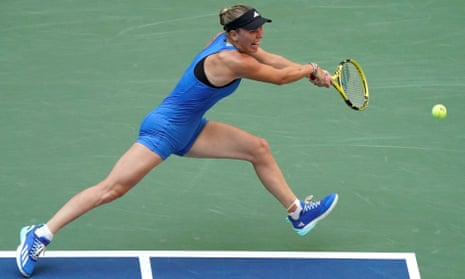 Two break points for Gauff after Woznicaki sends a forehand long. She can't handle a low, sliced forehand from the Dane on her first attempt but takes the second and we're back on serve. Wozniacki 2-2 Gauff.
Gauff holds serve to win her first game of the match, but she's still a break down, 2-1 in the first set. It's humid and hot here in NYC today but both players should be used to it: Wozniacki has a home in Florida while Gauff grew up there. Also a reminder that Coco hasn't been a great starter at this tournament so far: she lost the opening set in the the first- and third-rounds.
Righteo, I'm off for a break; here's Tom Lutz to croon you through the next bit.
Next on Armstrong: Rinky Hijikata v Francis Tiafoe [10].
Wozniacki breaks Gauff off the bat; interesting!
Cirstea says she's a big smile on her face because of how hard she's worked for this – very few people know just how hard. She thanks the crowd, who've "made me feel special". Players dream about making it to where she now is, but it always pays off if you work hard – if only that were true – and she's really proud of how she's played this week.
Wozniacki and Gauff are away…
Sorana Cirstea [30] beats Belinda Bencic [15] 6-3 6-3
That's an absolute doing. Bencic was so poor today, finishing with a careless forehand, but Cirstea was very good, ensuring her win over Rybakina wasn't for nothing, and she's into her first Grand Slam quarter in 14 years and the second of her career. She meets Muchova next, and will have to play just as well to have a chance in that.
A winner from Cirstea, an error from Bencic, and at 0-30 this is again nearly over. Cirstea is taking her second serve apart here, but she wallops a flat forehand long to usher her opponent into the game. No matter: Bencic hesitates, comes in off a difficult ball, and is quickly passed cross-court…
Bencic makes 15-30 but a poor shot cedes the advantage. Cirstea, though, sends down a double then scoops a backhand wide; that's a break back, but can Bencic hold it down for longer than one game in a row? She trails 3-6 3-5.
Lovely stuff dept: Wozniacki and Gauf arrive onto Ashe. I'm buzzing for this one as, I'm sure, are youse.
Just when we hoped Bencic might've played herself into nick, another service game riddled with errors gives Cirstea advantage … and a backhand swiped hectares long means Cirstea will now serve for a spot in the last eight at 6-3 5-2. Bencic looks every bit as miserable as her performance has been.
A fabulous return from Bencic – who, I've just heard, rolled an ankle when my computer reset – right onto Cirstea's tootsies gives her a break back point having been down 0-40, and she's now serving at 3-6 4-2. Thing is, she's still struggling with Cirstea's extra pace, so I don't really see a way for her here.
Back to Shelton, 20 years old. Not bad really, and he got his tactics spot-on today, denying Paul pace on the forehand and trusting himself to win rallies from the back. Anyroad, he's got a real chance of winning his next match too while, on Armstrong, Cirstea has broken Bencic again and leads 6-1 4-1 40-15.
Next on Ashe: Caroline Wozniacki v Coco Gauff [6].
He says it's great being in America and feeling the love of the crowd "playing against foreigners" … er, OK mate. As for playing on Ashe, "It's hard to believe but God does wonders," he concludesm then explains that in his box, there's no panic, and he didn't panic when dropping the fourth set. He stole his dad away from his job coaching the Florida Gators, he explains, and thanks his support team. Otherwise, he's learnt this year that he's not just a tennis player, he treats people the right way, inspires kids, and hopes they develop a passion for tennis watching him play.
Ben Shelton beats Tommy Paul [14] 6-4 6-3 4-6 6-4
What a win that is! Shelton flexes muscles, cups an ear, sends love to his dad, and he meets Tiafoe or Hijikata next!
Cirstea consolidates, then makes 30-40 as Bencic makes her 20th unforced error and the match is here: another break, and sure it's over. But Cirstea flays long then cracks into the net and from there Bencic sees out her hold to tay in the match at 3-6 1-2. and if you're wondering what took me so long, my computer crashed I accidentally kicked out my computer's plug … and in the meantime, out of nowhere, Paul, at 30-all, goes long on serve, and Shelton has match point at 6-4 6-3 3-6 5-4!