The WNBA still makes too many broadcasting blunders
Broadcasters in the 2023 WNBA season are mostly pronouncing players' names right. Considering the frequency with which on-air talent mispronounced players' names (or misnamed players) in recent years, this is a triumph.
Has Bill Belichick lost his touch? | Agree to Disagree
It shouldn't be.
Saying players' names correctly is a requirement of the job. Teams before each game distribute pre-game materials that include pronunciation guides to assist with this requirement. "Taking the time to learn the players' names and proper pronunciation is so important to demonstrating that you respect the players as professionals and as people, and also shows your dedication to perfecting your craft," Terrika Foster-Brasby, a sideline reporter for the Connecticut Sun, shared by email. This matter is of no small consequence, given the media's systemic inequitable coverage of women's sports, which still receive just 4 percent of all sports coverage. Additionally, 80 percent of WNBA roster spots are occupied by Black women: the biggest victims of name-butchering. Thus, coverage of women's sports is intertwined with the intersectional realities of the players that make the league up and drive these disparities.
In 2023, the WNBA has benefited from increased attention, especially from the league's Changemakers, sponsors, and advertisers, who have finally, belatedly, embraced the players as marketable. Televised game coverage, though, remains a weak link for the league (arguably ahead of even the officiating that fans love to loathe). Miscues and mistakes in the 2023 season have been especially infuriating because many could be prevented with a brief proofreading pass, while others stem from bias.
Graphic errors

If a graphic of Bernadett Határ, who arrived mideason to the Sun, is to be believed, the 6-foot-10 center from Hungary weighs a wee 44 pounds. DeWanna Bonner, her 6-foot-4 teammate, is listed at a lithe 143 pounds, making it unlikely that the graphics-maker intended to cite Határ's weight at 144 pounds. But her jersey number is 44: Mystery solved.
Reigning MVP & Defensive Player of the Year A'ja Wilson may be a stock trader for all we know; she is, afterall, an entrepreneur. But Wilson's dominant defense is built on rebounds and blocks, despite the error in this graphic stating otherwise.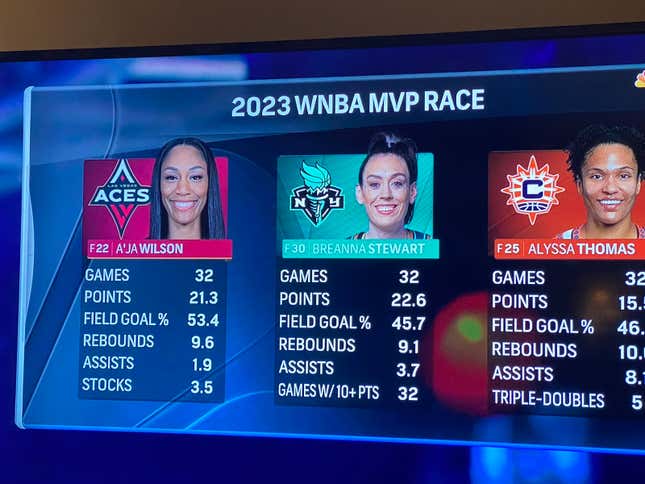 It's a silly error that undermines the WNBA's legitimacy, and there has never not been a time in the league's history when sports media has not, whether indirectly or directly, eroded its efforts toward mainstream respectability. This comes down to the WNBA being made up of women and most of the players being Black women, while media companies in the U.S. remain "overwhelmingly white," according to a recent Forbes report.
"The entire world is skewed from the white male perspective," Hollywood showrunner Shonda Rhimes has said. Ava DuVernay, meanwhile, defined the industry's "one dominant voice" as the "white, male, straight gaze." In sport as in Hollywood, white, straight men control most of the narratives, which produces skewed coverage. When it comes to the WNBA, this matter is aggravated by the number of networks covering the league's games without quality control standards.
In the 2023 season alone, games were brought to the masses via four streaming services (Amazon Prime Video, Twitter, Facebook, and WNBA League Pass) and six traditional channels (ESPN, ESPN2, ABC, CBS, CBS Sports Network, and ION). Those working behind the scenes have major influence over how the league and its players are represented to viewers. If those calling the shots are primarily white men, or men and women from other demographics who have been conditioned on the merits of the white gaze, the sounds and images on our screens will represent that narrow lens.
"There are producers, statisticians, and directors that also have a critical job to do when it comes to what is aired on TV," Foster-Brasby said. "It makes a world of difference when you are working with a producer who is familiar with women's basketball. It is incredibly helpful towards setting the tone of the show."
Too many broadcasts in 2023 show that those televising games, the WNBA's essential product, are unaware and ill-prepared.
Basketball in a Barbie world
On August 27, Kristy Wallace should have been heralded as the eventual player of the game, but the Indiana Fever camera operator threw a wet blanket on what became Wallace's career-high shooting night.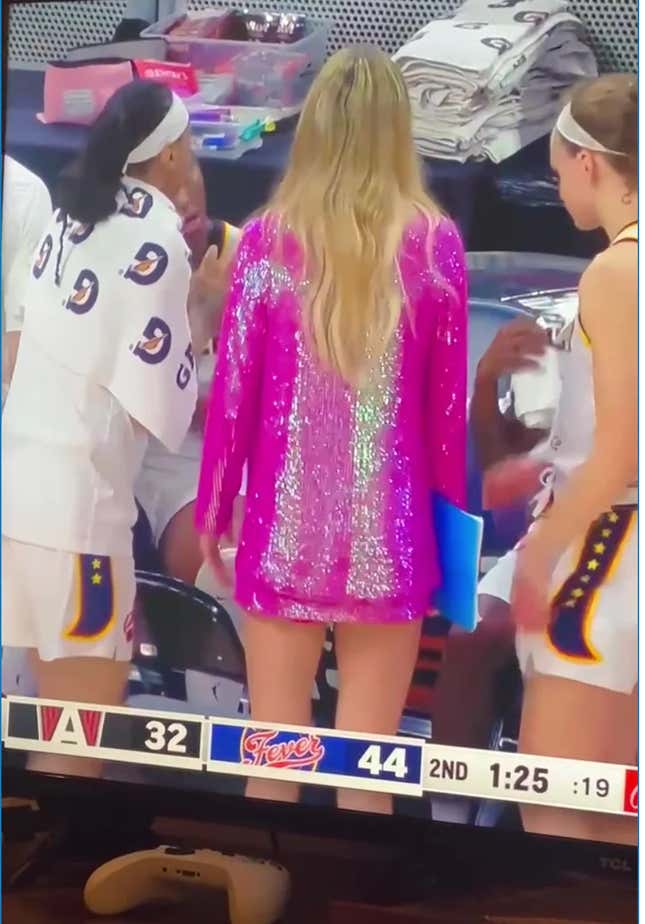 During a second-quarter timeout, the camera trained on 6-foot-1 guard Lexie Hull, who was donning a hot-pink skirt suit. The camera did not veer from Hull, even as Fever coach Christie Sides gave instructions to her players, who were battling for a third-straight victory. The camera locked on Hull, the Fever broadcast's canvas, while commentator Pat Boylan read required sponsorship information. Boylan then reported that it was Breast Health Awareness Night in Indiana.
"And Lexie Hull understood the assignment," he said.
No matter Boylan's intention, the ogling camera work ensured his comments would land creepily, and Bria Goss, his co-announcer and a cancer survivor herself, worsened matters. "You know, that new Barbie movie came out, and I think [Hull] absolutely destroyed the bar on Breast Cancer Awareness Day," Goss said, diluting the broadcast's already-watery messaging on breast health.
Other broadcasts around the league, both local and national, mentioned Breast Health Awareness Month while showing a graphic at the bottom of the screen which included a web address for the Breast Cancer Research Foundation (BCRF). Hall of Famer Rebecca Lobo, for example, presented this information beautifully during a broadcast that same week, emphasizing the importance of early detection.
The WNBA began its partnership with BCRF in 2021, with great intention. Black women have the worst breast cancer outcomes of any population, according to BCRF, which upholds a commitment to "shining a light on the disparities in breast cancer incidence and care and helping fund research on why Black women experience worse breast cancer outcomes," according to its website. The league, thus, works with BCRF because BCRF prioritizes equitable health care for Black women's unique and specific needs. In the clinical sense, the word "outcomes" usually means survival rates and deaths; the WNBA is not immune to losing members to cancer – including during the 2023 season.
On July 7, Nikki McCray-Penson – the original Washington Mystic who, in 1998, became the first player to sign with an expansion team – lost her battle with breast cancer. McCray-Penson was first diagnosed in 2013 and died at 51, leaving behind a husband and 10-year-old son. Simone Edwards – the first Jamaican athlete to sign with a WNBA team and member of the 2004 Seattle Storm title-winning team – died in February after being diagnosed in 2021 with Stage 3 ovarian cancer. She was 49. Tammy Jackson, a nine-year vet, was diagnosed in 2015 with Stage 3 breast cancer. She died in October 2022 at the age of 37, leaving behind a ten-year-old son.
The league's annual Sportsmanship Award is named after Kim Perrot: a two-time title-winner with the Houston Comets who died in August 1999, several months after receiving a brain cancer diagnosis. She was 32. Before falling ill, Perrot was at the top of her game. But in an embarrassing show of unpreparedness, the Fever team did not tell any one of these stories and failed to provide vital information to the public about BCRF's work. The team, instead, centered white femininity, in Hull and Barbie form.
"I have been fortunate enough to work with some amazing producers, but I have also occasionally worked with a few who just didn't know the WNBA at all," Foster-Brasby said. "And you can tell in the broadcast."But the Fever broadcast was not alone in its outsized interest in a tall, blonde White woman this season.
Where's the respect for Kathy Engelbert?
The Commissioner's Cup, which aired on Amazon Prime Video, went with a broadcast team that usually works on the NBA side: Michael Grady, Sarah Kustok, and Baron Davis. While some WNBA diehards may have been bummed to not see their favorite commentators and analysts working the Cup, the reason for going with an NBA broadcasting squad probably comes down to neutrality, since the Cup is not a regular-season game. (The WNBA did not respond to my email seeking to confirm this theory.) The trio provided impeccable coverage of the Cup, especially Davis, a former NBA player, and Kustok, who played collegiately at DePaul, who added unique perspectives. But those who staged the event placed Kustok center – sending a powerful message about how women are valued in society, media, and sports media especially.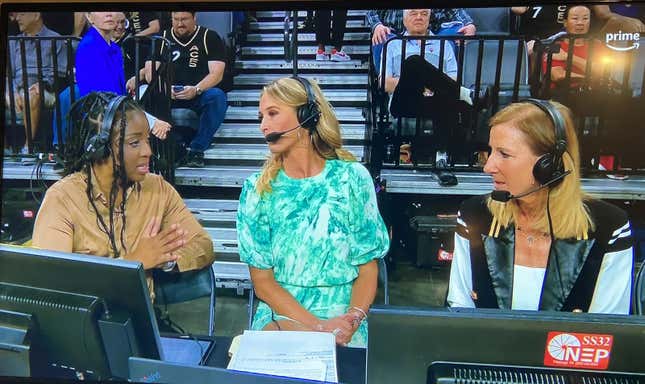 When NBA Commissioner Adam Silver sits for a halftime interview, he is the focal point of the conversation. Engelbert, though, for the second year of the Commissioner's Cup, was not treated with equitable respect for someone of her corporate and cultural stature. Engelbert has advanced the league exponentially since arriving in 2018 as the WNBA's first commissioner, making modifications and improvements to players' salaries, healthcare, and travel conditions through the 2020 CBA. Englebert also guided the league through a pandemic at a critical, "existential," point in WNBA history. Englebert was named to the commissionership after a 33-year career at Deloitte, where she was named CEO in 2015. But in a WNBA Commissioner's Cup broadcast, Englebert is robbed of a seat worthy of her position.
The tall, blonde Kustok – wearing a short, leg-baring dress – is not at fault. Our society's obsession with white femininity, though, is, and it continues to send a damaging message to young girls. The statement is simple, and what it has always been: an edict for women to conform to the preferences of straight, white men, or be rendered invisible. Additionally, these choices reaffirm the false belief that people will not watch women's basketball for the basketball; that the league's success hinges on putting women on display who, to some, amount to eye candy. That further disrespects the skills and accomplishments of the women most desired by straight, white men. The media's dominant lens, thus, perpetuates sexism, and the notion that a woman's visibility in society rises and falls with her willingness and ability to satisfy the gaze of straight, white men.
Players in the WNBA have long repudiated these exclusionary standards, and many of the league's fans do not support them, either. To accurately report on the league, and to depict it and its players in their essence, it is imperative that those bringing games to the masses check their conscious (or unconscious) biases at the door. Additionally, broadcasters must aim to understand the WNBA fan base, which is richly diverse in all ways. The WNBA, and its fans, deserve better than an outmoded prevailing lens which, at every turn, suppresses the truth and vibrance of the league and its players.
They deserve better than:
Broadcasters

portraying a player

as a thug based on an event that happened two teams and two years ago;
A play-by-play caller

spitting a sexist retort

to the apology of his broadcasting partner, for unintentionally cutting him off ("I've got two daughters and a wife" are stereotypes which have no business in WNBA programming);

Off-topic yammering

about music and baseball to the sideline reporter's chagrin, who warns the desk announcers that they are "jeopardizing the professionalism" of the broadcast;
References nearly every game to men's sports (basketball or otherwise) and comparisons to male athletes (rather than to former WNBA players);
Camera work

so dizzying that it invokes nausea

in those watching at home and

technical difficulties

which render audio mute for long stretches; and
Closed Captioning for the hearing impaired amounting to gobbledegook, which is also an accessibility issue. Like this: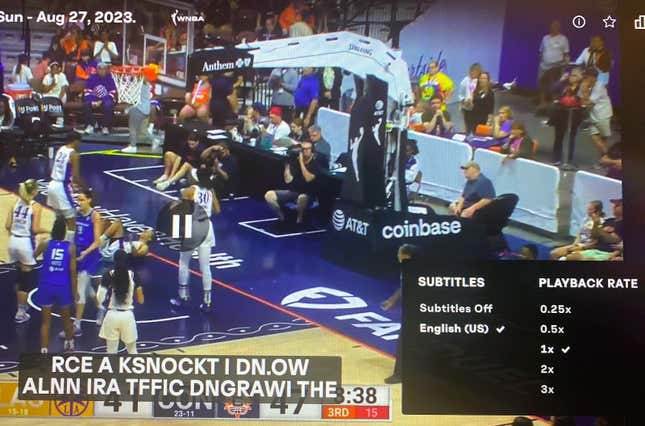 The league, its players, and its fans deserve better than what they've gotten so far in 2023.