NASCAR Xfinity Driver Jeffrey Earnhardt's #45 Car Sports Ark Encounter Logo
Editor's note: This article was adapted from a news release that was recently distributed to the media.
Thanks to the generosity of ForeverLawn, Inc., NASCAR Xfinity driver Jeffrey Earnhardt's longtime sponsor, the Ark Encounter will be prominently featured on the #45 car at the "Wawa 250 Powered By Coca-Cola" race at Daytona International Speedway on August 25 at 7:30 p.m. ET. Before traveling to Florida, Earnhardt and his team made a stop in Kentucky to visit the life-size Noah's Ark, operated by the Christian apologetics ministry Answers in Genesis.
"The Ark Encounter is amazing, truly incredible: the size of it can't even be put into words. And it really gives you a better understanding of the whole timeline, process and details involved in storing and caring for the animals," Earnhardt said. "It's something everyone needs to come and experience. I'm excited to partner with and bring awareness to the Ark Encounter. The car looks good, and I hope to put the Ark Encounter in Victory Lane on August 25."
Earnhardt met with AiG founder and CEO Ken Ham at the Ark Encounter, discussing the promotional partnership and the NASCAR audience's support of faith-based entertainment. "Our friends at ForeverLawn want to promote the Ark and Creation Museum as much as they can to see as many people as possible visit and be impacted by the vital message of God's Word," Ham said. "Their heart is for people to hear the gospel message, and we know they have similarly promoted other Christian entertainment projects in the past."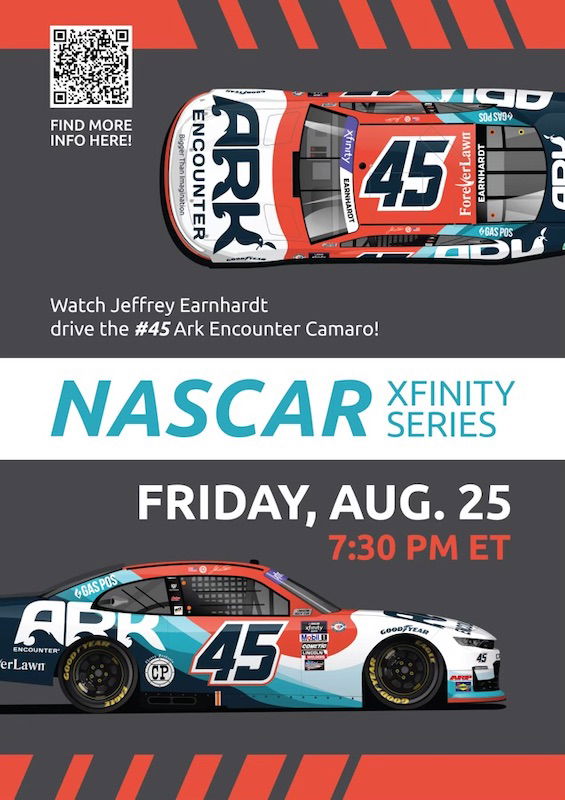 Earnhardt mentioned how excited many of the other NASCAR drivers had been when his car recently sported the Jesus Revolution film logo. "It's really cool to see their faith and their promotion of that message," he said. "ForeverLawn is like family to me. I've been very blessed to partner with them and be taken under their wing."
Ham finds it a great fit to promote the Ark Encounter to the NASCAR audience, with the Ark serving as one of the world's leading Christian themed attractions, recently named the number one attraction in Kentucky as determined by Attractions Magazine. "We appreciate ForeverLawn's generosity and join with them and our new friend Jeffrey in praying that we'll get to see the Ark Encounter make an appearance in Victory Lane on August 25," Ham concluded.
Answers in Genesis is an apologetics (i.e., Christianity-defending) ministry based in Northern Kentucky, near Cincinnati. The Ark Encounter opened in 2016. The Creation Museum (west of the Cincinnati Airport and next to the AiG headquarters) has also become a major family attraction in the Midwest. For more information on the two attractions, visit CreationMuseum.org and ArkEncounter.com.