Malik Reneau and Kel'el Ware embark on the daunting journey of filling Trayce Jackson-Davis' shoes – Inside the Hall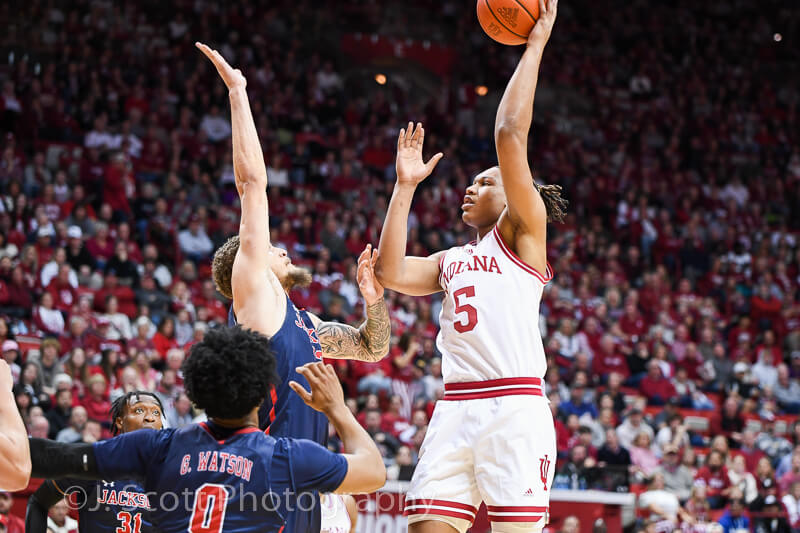 Trayce Jackson-Davis and Race Thompson held down the Indiana frontcourt for four straight years. With the transfer portal and recruitment, that's a lot of continuity in modern-day college basketball.
In those four years, the Hoosiers endured a coaching change, some wins, a few losses and capped it off with back-to-back appearances in the NCAA tournament, a giant leap from where the program was five years ago. There's no question that Jackson-Davis and Thompson were formidable in the Big Ten, but as time moves on, personnel changes.
That gives Malik Reneau and Kel'el Ware big shoes to fill. Reneau is coming off a solid freshman campaign in the cream and crimson and Ware's talent speaks for itself. It can work, but there are more questions than answers entering the 2023-24 season.
For the Hoosiers to succeed and make three straight NCAA tournament appearances, Reneau and Ware have to find a way to fill their predecessor's roles.
Reneau's freshman season had some good, bad and ugly. He flashed great strength underneath the basket, finishing 57.3 percent of his shots at the rim. The Miami (FL) native had a 9.4 percent offensive rebound rate, showing his tenacity on the glass— an area where Indiana will need some help. The Hoosiers haven't had a player besides Jackson-Davis average more than 7.5 rebounds a game since Juwan Morgan (8.2) in the 2018-19 season. At times last season, especially when Indiana struggled to rebound in the season finale against Miami, it seemed as if some Hoosiers just stood around waiting on TJD to scrap on the glass. Reneau's best offensive move? The left-handed hook. This and the drop step were his go-to's in the post his freshman season.
However, Reneau still has some things to iron out. The 6-foot-9 forward had a 21 percent turnover rate, most of which were bad passes and traveling violations. The traveling violations have a lot to do with the game's speed. When Reneau got sped up, he panicked — especially away from the basket. Under the basket, he's proven to be patient at backing down defenders and burrowing himself in the restricted area. There's still talk about whether he can or should be stepping out on the perimeter and shooting from the perimeter. The Montverde Academy product shot 2-of-5 from beyond the arc a season ago.
But in preparing for a big freshman to sophomore season jump, Reneau has transformed his body. The Florida native has dropped his body fat and increased muscle tone.
1 Year Transformation ??? pic.twitter.com/s0ZbbPZTmx

— Malik A. Reneau (@MalikReneau) August 8, 2023
Ware's transfer from Oregon was a massive get for Mike Woodson and company in Bloomington. Ware's talent is undeniable, as the former consensus top-10 recruit flashed some excellent things for the Ducks in his first year.
The one thing Ware has that's unteachable? Size. The Little Rock, Arkansas native is listed at 7-foot and 230 pounds. Ware has a smooth touch from the perimeter and the baseline. Fifty-three of his 182 field goals attempted at Oregon were 3-pointers.
"Personally, I just feel like I needed to get stronger and needed another year of college just to develop my body more," Ware told DraftExpress in May regarding his decision to return to college basketball.
Some strength needs to be added so he can compete with the bigs – Hunter Dickinson and Zacy Edey come to mind – Indiana will face down low. But his wingspan makes him an excellent shot blocker. Last season Ware only played 15.8 minutes a game but averaged the second most blocks on the team — 1.3. Ware posted an 8.8 percent block rate.
"We got Kel'el and we got Payton (Sparks), and both are pretty great, skilled players. Both can finish with both hands, can step out a little bit and shoot the ball, too," Reneau said in June. "So you see a good flow of what we're trying to go with our front court and understanding that we don't have Trayce anymore, so we've got to look somewhere else to find it."
Offensively, Reneau and Ware fit into the four-and-five spot pretty neatly. Ware — the nimbler of the two — should be able to clean up around the rim, run the floor, and spread the floor well enough to let Reneau do the heavy lifting in the post.
However, this won't excuse Ware from dodging the fight. He'll have to crash the boards and show high IQ in stunts like the high-low. Reneau is a talented passer, so being alert on the weak side will be critical to the Hoosier's success.
Defensively, there's reason for Indiana fans to be worried. Reneau struggled mightily with foul trouble last year and totaled 89 personal fouls, 11 more than any other Hoosier. Ware is a proven rim protector but has some cleaning up to do in the pick-and-roll and pin-down actions. Luckily for them, the return of Xavier Johnson should spearhead Indiana's defense, which dipped in production in Woodson's second season.
"Some of the things I think I need to improve on is being able to defend on the perimeter," Reanau said. "I've been in the gym working on my defensive side, really guarding smaller guys when I switch on to them and stuff like that…just being aware."
It's likely an impossible task for Reneau and Ware to fully replace Trayce Jackson-Davis and Race Thompson in production right away. But the duo represents Indiana's best shot of doing so. The talent is there, but can they jell and be efficient?
Filed to: Kel'el Ware, Malik Reneau