Arizona basketball players take course tied to Mideast tour
After Arizona players made the 20-hour journey from Phoenix to Jerusalem last month, the Wildcats had another hour or so to eat brunch and get back on the bus.
First stop: The City of David. Ruins in the historical core of Jerusalem, a place where cleansing rituals were held, a place where Jesus was said to have walked.
Associate UA professor Rob Stephan, brought along on the trip to teach an accompanying one-credit course called "Intercultural Competency," had reason for concern.
"For a history nerd like myself this stuff is awesome," Stephan said. "But for people who see themselves going into sports or business or engineering, to see a pile of stones in a very, very hot and humid place… with jetlag and everything? There's no guarantee they're going to find that interesting enough to really dedicate their attention to it, especially when they feel like they were there to play basketball."
But, Stephan said, they did. The Wildcats were beginning a 10-day swing through Israel and the United Arab Emirates to play basketball but also had their days packed with visits to cultural and religious sites — all while digging into their course.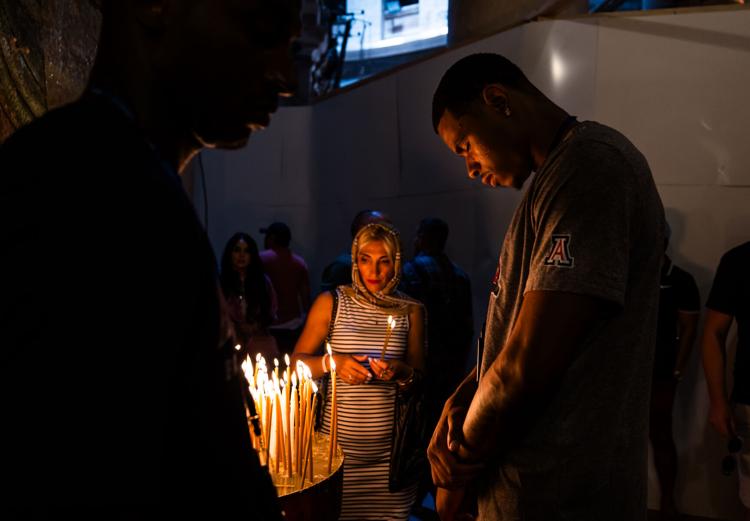 "I thought from Day 1 they were they were engaged, they were asking questions," Stephan said. "I was really impressed that they took those principles of intercultural competence to heart. They were very respectful at all the different archaeological sites and religious sites. I was just so proud of our students."
The course is still ongoing. Since UA had international freshmen who were not eligible to take what is technically a "study abroad" course over their first summer, it was arranged to become a fall semester class with three main aspects: Lectures, readings and a final project that involves building their own website about one of the sites.
Teaching a fall semester course meant Stephan could only prepare online lectures and coursework in advance, though he encouraged players to get ahead so that they could absorb more of what they would see on the trip.
Once on site in the Middle East, Stephan went along for every one of the Wildcats' cultural or historic stops and pointed things out along the way. He said he'd talk to players one-on-one casually as they visited places and often made appearances at the near-daily team meetings that UA coach Tommy Lloyd held.
"Technically, it's an asynchronous online class, so those online lectures that I put together kind of served that role," Stephan said. "But in practice on the trip, I would make it to as many of the team meetings as I could. From time to time, Coach Lloyd would come up and say `Professor Rob, can you give us a 10-minute spiel on what we're gonna go see tomorrow?'
"Then I would put together the best 10-minute lecture I could on the Church of the Holy Sepulchre, or Old Jaffa or something like that. It was a little bit informal in that sense. But I was very happy to get the chance to talk to them in person."
The tricky part was that in Israel and Palestine, the history was sometimes subject to centuries-old interpretation. The Wildcats' guides told them Jesus was said to have walked at the Old City, that he was born in a spot under where Bethlehem's Church of Nativity is, and that he died on the cross at a location where Jerusalem's Church of the Holy Sepulchre was built.
But some of their tour guides, and Stephan, also told them sometimes that the history was not certain.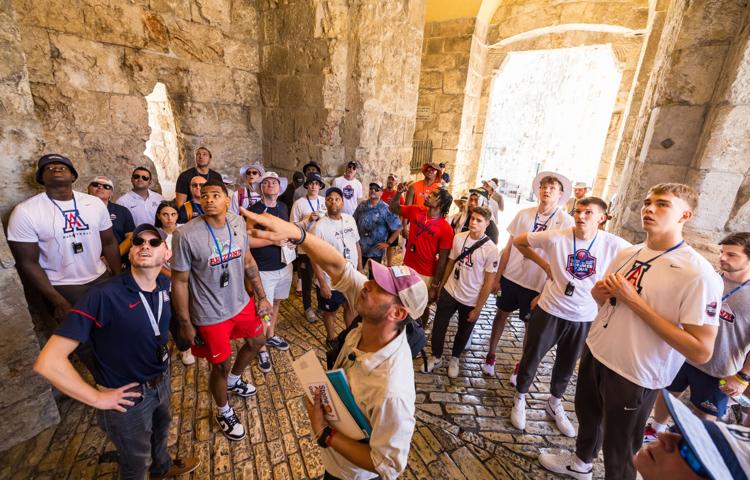 "I found that an interesting enough thing that I built that in as part of the course," Stephan said. "One of the things that students will read is some of the New Testament about the life of Jesus, but also other ancient sources that we have. They will read the Roman sources, some of the Jewish Roman sources, and their assignment is basically: 'When you take all these things together what can we actually say, not so much about divinity or anything like that, but just about this guy's life. What do we know?' "
Stephan said most of the area's history was written after 300 AD, when Christianity became more accepted in the Roman Empire under Constantine the Great.
"What I would say we're getting is a sense for what people a very long time ago, about 300 AD, thought about where those events took place," Stephan said. "Is there any way to prove that they actually took place there? No. But it's certainly possible, and I don't think that there's a lot of information that would disprove it."
For example, Stephan said, the Wildcats' City of David guide took them to some newly excavated parts of a road that led to a temple and told them Jesus almost certainly walked on that road.
"Something like that is actually probably a 'more-likely' sort of claim," Stephan said. "But this would have been the standard path from the pools of purification to the temple. So all Jewish people who would have gone through that purification process up to the temple on the high holy days would have likely gone somewhere along there. And Jesus growing up in the Jewish faith would have been going through that same purification process and going up to the temple on high holy days."
The Wildcats' tour guide through Jerusalem's Old City — where Romans, Jews, Muslims and Christians have all existed over the centuries — also warned them that "the one who gets to write history is the winner. That's how it works."
Regardless, all of the history hit home for the Wildcats. Many of them cited visiting Bethlehem and the Jerusalem holy sites as highlights that stuck out, often because of their Christian upbringing, while Stephan said another player who wasn't religious told him he still found the history fascinating.
"Seeing all these religious places that date back to the early Bible stage has been eye-opening," senior forward Keshad Johnson said during the trip. "Seeing where Jesus was born, where he was crucified, it's just crazy."
Then, when the Wildcats ventured to the United Arab Emirates for the second half of their trip, they saw the other end of the spectrum.
Instead of a church built on the top of something that was built on top of something, with a history that wasn't quite clear, they visited the brand-new Abrahamic Family House on an island in Abu Dhabi that used to house a fishing village.
They also went a half-hour across town to see the stunning 30-acre Sheikh Zayed Grand Mosque, which was completed in … 2007.
"Not that there's no history in the UAE, but it was largely nomadic up until a couple hundred years ago, so it doesn't have the same sort of culture after culture structure in terms of the architecture," Stephan said. "So not only do they have the money to do whatever they want with it, but it's also kind of a blank canvas in a way that very few other places in the world are."
Now, the Wildcats get to pick a site from either country that stood out to them the most and, Stephan said, do a deep dive on it via their websites.
"What I'd like to hear a little bit about is the factual history of the site, how different cultures have interacted or used that site throughout time," Stephan said. "Also, their own personal experience — what was it like for them going there? Why did they find it meaningful? How did they experience different cultures coming together at that site when they were there?"
The course is scheduled to end about five weeks into the semester, right around the time full-length practices will start. The season will be right in front of them, and their trip officially behind, but not likely forgotten.
Contact sports reporter Bruce Pascoe at [email protected]. On X(Twitter): @brucepascoe